Meeting was called to order by President Joe Lins. He thanked everybody in attendance, the set-up crew, Carol, and Beverly, and Coyote Hills wait staff for the wonderful job they do. There was a help wanted ad last week for Sgt. Of Arms for Fullerton Rotary Club that was filled by Monica Fernandez. He apologized for serving hot dogs for his inauguration meeting because today is National Hot Dog-day. He wanted the crowd to know about Community Investment Awards (CIA) letters coming from him and that he expects 100% participation. Also, if you receive an email or text from President Lins that looks sketchy, chances are it is a scam. He wants to officially announce that he will never ask you to buy $1000 worth of gift cards for any reason and blames Carl Camp for it. This receives a great laugh from the audience. President Lins transitioned to "On This Date." In 1969, Astronauts Neil Armstrong and Buzz Aldrin were the first men to walk on the moon. Also, the U.S. Viking 1 robot spacecraft made a successful first-ever landing on Mars. Janet Evans, local Olympic Gold Medalist and Chief Athletic Officer of LA28, announced that the 2028 Olympic games in Los Angeles will open July 14 and run through July 30. President Lins introduced a new segment called "This Just In." "The American League beat the National League 3-2 in Major League Baseball's All-Star Game last night for the 9th straight time on home runs by Stanton and Buxton in the 4th. Stanton, a local talent, who went to Notre Dame High School in Sherman Oaks was also named the game's MVP."

For our commencement ceremonies, Monica Fernandez led us in our Invocation. "We ask your blessings on the people who have been called to lead the community in which we live and work and play. Grant them and us the wisdom and courage to know and do what is right and good and true. May they and we speak out when it is time to speak out and listen, patiently and receptively, when it is time to listen. May they and we always be guided by the spirit of community, by the spirit of justice, and the spirit of love." A powerful prayer for those in leadership. Carl Camp led us in our Pledge of Allegiance. Today's guests introduced by President Lins include; Lisa Wozab, guest of Beverly Berryman. Anissa Livas, senior analyst for the city of Fullerton and today's guest speaker guest's. Wayne Wedin, Barbara Killponen, and Sally Williams, were all guests of Jim Williams. Also in attendance and guest of Jim's, famous cyclist and Fullerton Rotary Club prospect, Toby Henderson.

Our Rotary Minute was given to us by Cathy Gach. She remembers being a principal of a high school in Warrenton, Oregon, in 1993 and was invited to join Warrenton's Sunrise Club, a satellite club of Rotary. She wanted to meet leaders in her community. "Our club had small membership but everyone was active in the community." She recalls the Steak Dinner fundraiser was her favorite. Fast forward to 23 years later, Rotary is still a big part of her life. "The can do attitude and service above self-work is what kept me here." Humorously, she wanted to remind the members that were fined last week and were not present that the fines are in the mail.
President Lins introduced our esteemed Songmaster Bud "Woody" Lang and thanked him for all his hard work. Bud led us with a classic, "Life Goes On," by The Beatles. He stood front and center and performed like his name was John Lennon. Great Job Mr. Lang!

Today's announcements started with former Fullerton Rotary Club president, Zoot, announcing that pins from RI when he was president have been found and are being passed out today! He found them in his closet in the same bag that real expensive fudge was located. Jokingly, crowd members wanted the fudge more than the pins. Leslie McCarthy announced Rotary Fellowship meeting today at 5:00 pm at her house. Also, she wants all of us to go and support 2022 annual Crab Feast and Auction Under The Stars, Saturday, September 10th from 6-10 p.m. at the Fullerton Family YMCA. Our Recognition and Finemaster today was the funny, pleasant, and former President Terri Grassi. She did a great job in her position today. For starters, she did what the two past Finemasters could not. She acknowledged and fined the infamously dexterously with words, John Hong, $2, because of his awesome Finemaster presentation. "Years ago, people got fined for 'scooting,' which means leaving early. Bailey, you left early last two meetings and for that, you are being fined $2." Andrew Gregson and Bud Lang were fined $2 for having joined Rotary at the same time. Theresa was recognized and fined for her 17 years Rotary anniversary. Travis was recognized and billed for his wedding anniversary. Bob Beans was recognized for his birthday. Dan Ouweleen was recognized for his birthday and him and Susan's upcoming wedding anniversary.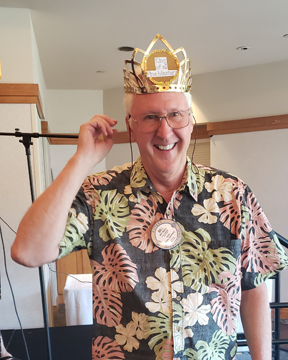 King of Finemaster
The very funny Bill Mathy was asked to stand while being recognized, "Bill, you are in charge of Finemasters, no? How do you sign your Rotary emails?" He replied, "King of Finemaster." The crowd applaud in agreement but nevertheless, he was fined $5 and given a Tiara because "every king deserves a crown," said Terri. Matt was recognized for receiving a grant and passing it to a better cause. Feel free to look it up on the Fullerton Observer Newspaper site. Way to go Matt! Former President Velasco was called out for his changemaker chips. "Your changemaker chips are no good at the casinos!" He was held in violation of the 4 Way Test of Rotary, things we think, say or do as a moral code for personal and business relationships. In his defense, he did say that the changemaker chips "might" get you free meals at restaurants but he had not talked to any of them. The audience laughed at this dialogue. He was fined $5. Terri played a game of table trivia. The topic was Rotary Clubs. "How many clubs did Fullerton Rotary sponsor?" The first table got it incorrect and were fined $1. The answer is 5. "What is the Fullerton Rotary Club number?" Someone from the table answered number 1, which is incorrect but also the definition of mission failed successfully. The correct answer is 828. Fines all around the table. The rest of the questions were answered correctly. What a fun game! Great job Terri.
President Lins took the stage and asked if anyone had not signed the Get Well card for our dear friend Bill Peloquin. Bill had some heart issues and is being transferred to St. Jude Hospital. He also asked who was responsible for the cool Rotary International t-shirts and hats. Prices are $20 each. He asked for Bailey to step forward. He presented her with last weeks "Most Inspirational Award." She asked, "will it explode?" "No guarantees," said President Lins.
pe presented guest speaker for today's program at hand. "The most infamous in the city. He graduated in 1993 with a Master's in Public Administration degree from the University of Kansas. Fullerton City Manager, Eric Levett. Mr. Levitt thanked the club for being invited. "I am excited to work for the city of Fullerton. It is an honor. It is an honor to present to one of the oldest clubs in the country." He gave a brief history on himself. He has 2 sons, 1 just graduated college and the other is beginning Sunny Hills High School. He lives in the community of Fullerton. Mr. Levett has 25 years experience as a city manager. He has worked for the city of Alameda, Simi Valley, Janesville, Wisconsin, and Sedona, Arizona. In Sedona, his accomplishments include the approval of the 4 lane highway on interstate 17. In Janesville, Wisconsin, he worked with the community in creating jobs and job opportunities ever since the GM automobile factory closed in 2009. He explained the roles of city manager for the city of Fullerton, "the city adopted a council manager form of government.The Mayor and city council are key political leaders and policy developers and the city manager is the Chief Administrative Officer for the city." Mr. Levitt went over the priorities of the city council which include fiscal sustainability, public safety which accounts for 70% of city taxes, infrastructure. "Long term economic development for the community is my goal." New retail/restaurants have popped up in Fullerton including, Dave's Hot Chicken, Five Below, and Pulmuone, which has brought in 100s of jobs for the city. He went over proposed new businesses coming in to the city soon. "Addressing homelessness has been a huge topic for Fullerton." He introduced the ways that the city is helping tackle homelessness. The Hope Center, which will open late summer, will bring in service providers to provide services for the homeless in the community. HLO (homeless laison officers) will go out on the field and report their findings to help allocate funds for homelessness. He wants to help address the problems in the community and help all the residents of Fullerton. Fullerton's future was a topic of discussion, "sales and transient tax are projected to grow over $5 million! And the city's financial forecast projects continued revenue growth for the next 5 years!" These look like positive numbers for the city of Fullerton. As city manager, he is not about layoffs or downsizing. "I want to create opportunities within the organization in question." He stated that he doesn't want economic growth too quick, he is more concerned on establishing economic situation for the city. He mentioned that city council approved Fullerton for American Rescue Plan act and is allocation $13 million for street infrastructure, $2 million for water infrastructure, which the city has had the most water repairs he has ever seen, and $3 million for facilities infrastructure. He closed his presentation with major projects coming to the city soon and some that are under construction now. He closed his presentation with questions from the crowd and thanked us for inviting him to speak. President Lins presented him with the "speakers gift," and told the audience that he will stick around to answer any other question that may arise.

Last thing on the agenda was the 50/50 draw worth $21. He asks Bob to pick out the winning ticket, 6368952. Bud Lang wins! Congratulations! He recognized Matt for his IT work he does for Fullerton Rotary Club. "Thanks to everyone. Meeting is Adjorned - with a ri8ng ofr the Rotary bell."
Proposed New Member: Rebecka Forrester, by Johm Phelps. Rebecca represents Monkey Business to our club; She is a Realtor, Attorney , and an accomplished public speaker