Proposed New Member: Nikki Rogers, 401 (k) Specialist, by Bailey Kline
Proposed New Member: Giselle Monterrosas, CEO JOYA Scholars, bu Christian Estaban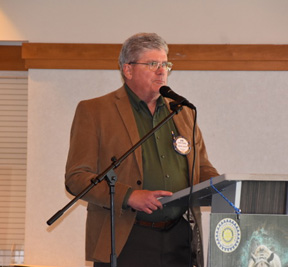 Jim Ripley takes Charge
Meeting was called to order by Vice President
Jim Ripley.
He welcomed everyone in attendance, "thanks for being here this afternoon. I hope this is not to disappointing but I will not be telling any dad jokes." Members in attendance shed tears at the sound of hearing that President Joe Lins is not in attendance today. Vice President
Ripley
introduced today's guest, Liza Wozab, guest of
Scott Dowds
. "I know we got a few guests from Rotary South. Can you put your hands in the air? Now, wave them like you just don't care."
For our Commencement Ceremonies, Carl Camp gave us our Invocation. "Join me in prayer please. Father, we thank you for today. We thank you that we can be here in Rotary and be with our friends. To meet new people as well, we thank you for that. We look at our world and we look at the wars and earthquakes, mass shootings, and lots of problems that take away our hope and the goodness of man. Yet, we know that your goodness is still with us. So, thank you lord for that. In Jesus name, Amen!"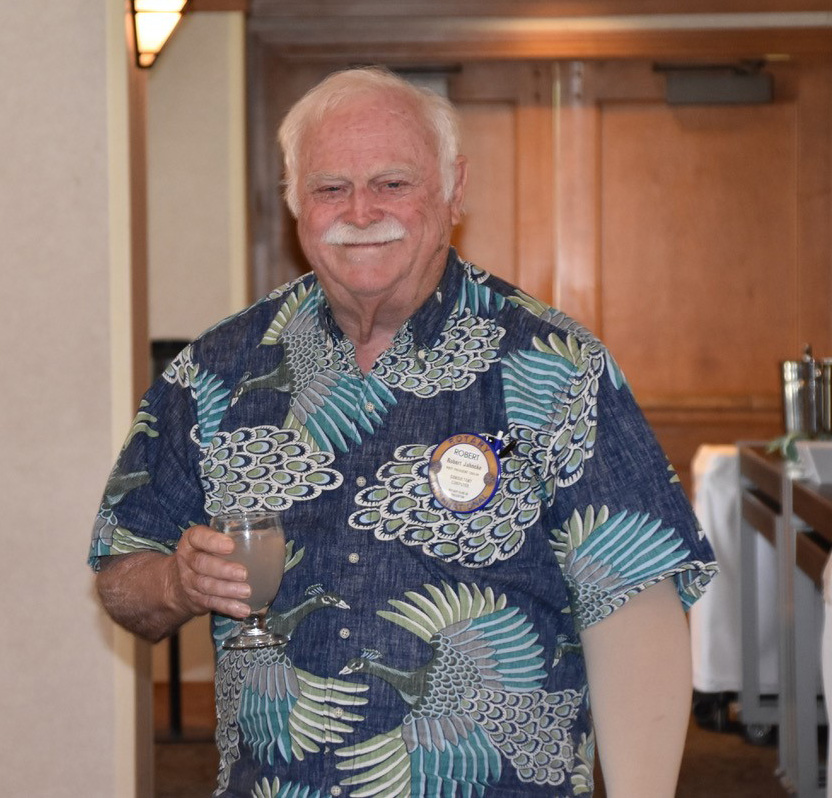 Jahncke gave history of Presidents Day
Bob Jahncke
led us in our Patriotic Moment. "This is an interesting week because of Presidents Day."
Bob
gave us a brief history Presidents Day and national holidays. "Washington's birthday was first celebrated in 1800 in Virginia. The year after Washington passed away. But it wasn't a national holiday for another 70 or 80 years. In 1885, the Washington Monument was dedicated. So, Washington has been a pivotal person in our livelihood in this country. I think it's important to remember what is going on in those days and how it has changed for all of us. Let us pledge the flag."
Bob
led us in the Pledge of Allegiance.
Our Songmaster, Bud Lang, fresh from wrist surgery, led us in a great choice of song. "Let's keep tradition alive. Let's do our traditional Rotary song Smile." Today's announcements were kicked off by Jim Ripley. He announced about open positions on the Rotary Board. If interested, please let Jim Ripley know. Past President Zoot Velasco announced Demotion Night. "I am so glad that our president is not here so we can talk about him." Demotion night is 4 months out and he wants to start planning now, "we get to demote our president. There's so much material, let's face it. It's like, what do we put in and what do we take out. Curating it is going to be hard. I would like your help, so I am asking you, if you have an idea for anything. And it has to be funny related to Joe Lins, please email me or text me. We'd love to get more ideas from you, thank you." Rick Crane announced the 32nd annual Jim Thompson Track and Field Championship event, "we are looking for volunteers. Please sign up to help Saturday morning, March 11th." Rick is asking for a volunteer to bring 10 large bags of ice to the event.
Andrew Gregson announced the City of Fullerton, State of the City, "The Crossroads of Opportunity" presented by Fullerton City Mayor Fred Jung. It will be on March 29, from 11 am to 1:30 pm atCal State University, Fullerton, Titan Student Union. Andrew announced some sponsorship opportunities for that event as well.
Today's Finemaster/Recognition Master is Patrick Hartnett. "Thank you so much. I am really excited to be back in the club. I had an unapproved leave of absence for a number of years." Patrick says he is the bearer of bad news but reminded the club that all fines are an important way for the club to generate money, and that due to inflation, all fines are $5. "How do we keep the aircraft carrier going in Rotary? Is through money and a little bit of fun." Terri Grassi was asked to stand and be recognized. "February 22nd , I think it's the day I joined Rotary." She was fined $5 and the folks sitting on her table were fined $1. "28 years ago, Terri became a Rotarian. And I fine Rotarian she is." Patrick recognized Scott Dowds, although not present. "Scott sent a surrogate. Mr. Jim Williams, being the great Rotarian that he is." Scott was not present due to damage to his place of residence during the high winds Orange County experienced the night before. "Yes, I am Scott's representative today. His windows on his second floor were blown out. The winds were so strong." We were told that Scott seeked refuge at Fashion Island in Newport Beach for the weekend until repairs to his home were made. Scott was recognized for his wife's birthday. He was fined $20 but with interest, it will be $25. Patrick Hartnett recognized Ash Wednesday, "for those religious folks who ate meat today, you are going to hell," he joked. He asked to self-fine for it and to pray 10 Our Fathers. He recognized Allan Bridgford, who was not present, for his Rotary Anniversary. Allan joined Fullerton Rotary Club in 1957. Patrick also noted that Allan was Jim Vanderburg's sponsor. Dan Kiernan was recognized for his $60 donation he made last week for his 60 years wedding anniversary, "Over the years, Dan has been a great proponent of the Boys and Girls Club. My wife and I decided to make a $100 dollar donation to the Boys and Girls Club in honor of Dan." Gerardo was recognized for his new camera and getting into photography, "those that know me, know I am a big photographer. I've travelled parts of the world to take wildlife and landscape photography. It's really my passion. Over the years, I've acquired far too much photo equipment." He recounts a time when he was offered to exchange some of his older equipment in for some cash but decided against it. Patrick gifted Gerardo two of his lenses that he no longer uses, "the only thing I ask is maybe if you could convince a few of your colleagues who are just as good as you to join our club and help us out." Gerardo is thankful and grateful for these gifts. He played a real simple game called Rotarian Feud. Table versus table, winner gets a bottle of wine and the losing table pays a fine of $5. He did an absolutely great job as Finemaster and generated some money for the club. Great job Patrick.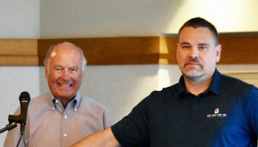 Dick & Matt talk about Uncorked
Our Program
at hand today, The Interworking's of Fullerton Uncorked, with
Dick Ackerman, Matt Reeskin,
and
Tom Knoll
. "We wanted to invite the people who are in the know about this event, who have been running it for several years now. The people from Rotary South."
Dick Ackerman
thanked everyone for allowing them to do this presentation and acknowledged the joining of both clubs, "the real reason why we are getting together. Your fines are much cheaper. $5 is a good deal so we are in."
Dick
gave us the history of Fullerton Uncorked, which dates back to about 25 years, sometime in the mid 90's. It started off as a small faction that began as a wine taster with about 40 people. The second Fullerton Uncorked event brought in about 70 people. It took place in the parking lot behind the Chapman building. The Muckenthaler Cultural Center hosted Fullerton Uncorked in the past as well. He credits
Brian Fairley
as being the influence behind Fullerton Uncorked at the Fullerton Arboretum which grew from anywhere between 500 to 1200 people. This is one of the larger events in Orange County. He realized that because of their age, they can longer put in the labor hours themselves, so they decided on hiring people to do it. Fullerton Uncorked started just as an idea that grew. It started as a Rotary event, but it expanded to serve the entire Fullerton Community.
Tom Knol
l, the chairperson for the event, has been involved with Fullerton Uncorked for about 9 years now, ever since he joined Rotary. He mentioned that this event is a group effort that requires organization at many different levels but it's all worth it because it raises money to charities in the community. "This even spreads a lot of goodwill for Rotary." He credits Covid for the past few years decline, but they have been building it up year by year. He says that the momentum was brought back up last year when about 500 people attended the event, held at CSFU's Intramural Fields. WWW.FULLERTONUNCORKED.ORG is where you can buy tickets, and VIP Tables. Paper tickets are also available and can be purchased from a Rotary Club member, who are required to sell 6 tickets. Rotarians who do not sell all 6 are required to pay the difference. Fullerton Uncorked does generate revenue but it's typically based on ticket sales, VIP tables sales and sponsorships. Expenses are another thing to keep in mind of for Uncorked. Expense costs vary but some include the venue, marketing, musical entertainment, tables and chairs and such, alcohol purchase, insurance and license, and other factors go in to play. Around 25 to 40 vendors are needed for the event, but 15 to 20 established vendors participate every year. Event directors ask that Fullerton Rotary members provide new leads for restaurants for the event. Because Covid hit restaurants hard, at the beginning of last year's Uncorked event, incentives were provided to participating restaurants in the form of gift certificate purchases from Rotary, that are given to the charities involved with the event. These charities raffle off the gift certificates at their events, "so, it's a win-win-win situation. Nobody is really losing out." Fullerton Uncorked takes place during the last weekend of September but there is a timeline with tasks to be done. Past years have seen CSUF athletes and Boys and Girls Clubs have helped setting up for the event on the day of. On the day of the event, it's all hands-on deck from 5 to 11 pm. Rotarians involved at the event need to wear aprons and Rotary shirts. Leading up to the day requires a good project manager and a good administration team. Preferably someone with good event planning and project managing experience because it requires meeting different deadlines and securing restaurants, marketing, and having the website up. Creating a committee with 6 to 8 leads in each required field to ensure all deadlines are met is a must.
Bob Cummins
has helped in the past so he can help with mailers, signs, banners and with contacts. The merger of both clubs should make it easy for them to make their goals possible. They took questions from members in attendance before ending their informative presentation on Fullerton Uncorked. President elect
Jim Ripley
thanked them for their times, "We got a lot to think about as a group. It's going to take a village to make this event happen effectively. We would like your input."
Last thing on the agenda, president elect Jim Ripley asked the Fullerton South team for help picking out a ticket for the 50/50 drawing. Ticket number 6369782 wins the raffle. Congratulations to Matt Howells. Jim closed the meeting with announcement of the Fullerton Prayer Breakfast on May 5 with Fram Verjee, President of CSFU. "Join us next week for a New Member Craft Talk by Theresa Stachelski, better know as Tez. We will adjourn for the day. Thank you."