Proposed New Member: Nikki Rogers, 401 (k) Specialist, by Bailey Kline
Proposed New Member: Giselle Monterrosas, CEO JOYA Scholars, bu Christian Estaban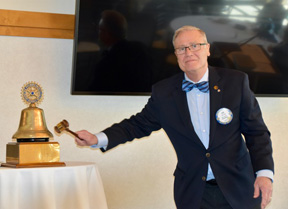 Pres Joe opens meeting
"Thanks for being here this afternoon." His opening thoughts, "we sent out an email informing everyone that we lost Walter Barnes." Walter had heart transplant and it reminded President Lins about his brother, Dave. "Dave was born with a hole in his heart and bad valves." He tells a story about his brother's heart troubles. "Walter Barnes was a great guy!"

Shirley Kincaid, Bill Kincaid's wife, also passed away in the last couple of weeks. Rest easy, you will all be missed.

Today's Important Facts; how do you catch a polar bear? You drill a hole in the ice and place frozen peas around the perimeter. And when that bear comes up to take a pea, you kick him in the icehole! Mixed reactions to that joke. Some say it was good while some say it was better than good. "That was good! This one is better," said President Lins.

What is Forrest Gump's password? 1forrest1. "Somebody sent me a joke this morning that really has no appreciation for good talent. That somebody is past president Bill Mathy. Then, he explained it to me like I didn't get it." What do you call a hen that stares at lettuce? A Chicken Caesar Salad. This joke didn't do to well with the crowd. On This Day, "How Meeting was called to order by club President Joe Lins. He welcomed everyone in attendance, about that Superbowl? How many of you are happy with the outcome?" Kansas City Chiefs defeated the Philadelphia Eagles to win the biggest game of the year.

For our Commencement Ceremonies, Immediate Past President Zoot Velasco gave us our Invocation. Zoot led us in his favorite prayer. It's his favorite prayer because of the ongoing war that is affecting the whole world in the Ukraine. Also, if you are a non-God believer, this is a prayer that you can use to make yourself a better person. It the prayer of St. Francis. "Lord, make me an instrument of your peace. Where there is hatred, let me sow love. Where there is injury, pardon. Where there is doubt, faith. Where there is despair, hope. Where there is darkness, light. And where there is sadness, joy. Grant that I might not so much seek to be consoled as a to console. To be understood as to understand. And to be loved as to love for the giving that we receive in pardoning that we are pardoned and in dying that we're born to eternal life. Amen"

Our Patriotic Moment was given to us by Carl Camp. Carl led us in the Pledge of Allegiance.

Our Songmaster Bud Lang, honoring musical pioneer and legend, Burt Bacharach. "I know he's a household name and a lot of us really enjoyed his music. I thought it might be kind of fun to revisit a couple of them." He led us in a song called, "What The World Needs Now Is Love," by Jackie DeShannon.

President Lins tells us one more Bill Mathy joke, "Police Officer pulls over a man for driving under the influence of marijuana. The officer asks the man, 'How High Are You?' The man responds, 'Hi, How Are You?" It received a ton of laughs.

Today's guest in attendance is, Nikki Rogers, guest of Bailey Klein. Welcome Nikki.

Announcements, Community E-Waste Collection Event sponsored by C21 and North Orange County Chamber of Commerce. "This Saturday is an E-Waste event in my parking lot from 9 to 3. Bring anything that you want to get rid of. We'd be more than happy to take care of that for you."

Cathy Gach announced that she sent out emails to those members who are delinquent on their bills with Rotary. Matt Howells announced, Tara's Chance is in need of volunteers. "We had a generous donor who sold his Ranch and is donating all of his horse stalls. We need to go get the horse stalls, so we need volunteers for Saturday. If you guys aren't busy from 9 to 1 please contact me."

Rick Crane announced the 32nd Annual Jim Thompson Track and Field Championship supported by THE Fullerton Rotary Club. "It's Saturday March 11, from 8 to 1. Please sign up if you'd like to volunteer." Randy McFarland announced that they need ice chest, ice, and canopies for the event as well.
| | | |
| --- | --- | --- |
| | | |
| Bailey calls out Recognitions | | |
Today's Finemaster/Recognition Master, the lovely Bailey Klein. "Hello everyone. I would like to caveat all of this with the fact that fines are supposed to be $5 now. Apparently, even fines aren't inflation free." Brett Ackerman was fined $5 and recognized for his Wedding Anniversary. "Brett, do you have anything planned for the 18th?" Brett remarks, "I couldn't find any reservations on the 18th. I'm a procrastinator." Tall handsome Dewayne Greenleaf was recognized for his Rotary Anniversary, although not present. "Tall handsome man? I probably would have noticed him," exclaimed Bailey. Bill Hite was recognized for his upcoming birthday. Bill says he will be having dinner with the family. "That will be $5 sir. I hope you have a great birthday." She shouted out Terri Grassi, who was not present. "Her birthday is next Wednesday. I won't be fining her but I got to give her a hug." Apparently, Terri and Bailey are the same age. "I didn't realize we were the same age. Were you guys aware of that? I just had to mention that." She made it known that yesterday was Valentine's Day and today is Singles Awareness Day. "Excuse me! I would like to meet the person who decided that the day after Valentine's is Singles Awareness Day. As a single person, we are aware!" Someone from the group asked her if she said SHINGLES, which received a huge laugh! "Yes, for this group," she retorted. She asked attendees to raise their hands if they have ever had shingles or if they had a Valentine's to raise their hands. "Raise your hands and keep them up! You all owe the Rotary Club $5." She fined herself $5 for humbly bragging that for the first time in many years, she had a Valentine, which received a huge amount of applause. "More importantly, it was my dogs birthday yesterday. My JP is 3 years old as of yesterday." Great Job Bailey!

Our Program at hand today, Fullerton College Drone Certification Program with Immediate Past President Zoot Velasco! He thanked everyone and began his presentation with a disclaimer, "No Chinese Spy Balloons were used in the making of this presentation." He immediately said that it was an important thing to point out due to recent events in the news. "For those who are wondering why the government isn't shooting down drones. Drones have to fly under 500 feet. Spy balloons fly much higher." Drones are a class of robot because it is piloted either automatically or from a remote location. Drones are classified under two categories; those that are autopilot, which will be a thing more in the future. The other category is what we see nowadays, the piloted drones. "Some of these drone robots are now injectable in to your bloodstream and will deliver things to your eye for eye medication which will deliver to different parts of the body, by drone. This is real life. This is happening right now as we speak." The future is now, Popular Science and Popular Mechanics Magazines, predicted todays future accurately. "Drones are robots that can be beast of burden. You see them doing bomb details in Iraq and Afghanistan." Even today, people are using them as service animals. The blind and people who are in need of service animals, are turning to robots. There are drones that operate in the water as well. There are some drones with LIDAR, which is a form or radar that is shot from the sky down to earth to help map out empty space. Ancient burial grounds have been found thanks to LIDAR. The Lost Empire of Cambodia, Angkor, was found because of LIDAR. Thanks to LIDAR, archeologists were able to detect more of the Mayan and Incans world buried underneath their lands. Zoot showed a video from Boston Dynamics, which are the leaders of autonomous drones and robots. There are 40 different categories that drones are used for including real estate business. The Central Valley California agriculture industry is being done using drones. Drones are a growing industry, and it will get bigger. Infrastructure inspection, Survey and mapping, construction and architecture, public safety, fire and fire operations and police, search and rescue, journalism, film industry, business photography, marine biology, archeology, physical education/ athletics, package delivery and drone maintenance are all professional industries that have gotten in the drone business. Fullerton College offers 3 drone certifications, Autonomous Systems Development Certificate, Uncrewed Aerial Systems Piloting Certificate, and Drone Journalism Certificate. The Fullerton College drone professor Jay Siedel got in to drones through journalism. Jay is the professor of journalism and runs the drone program as well. His vision for drone piloting is different from others and because of that the Fullerton College Drone Certification Program has been doing drone pilot certifications from Orange County all the way up to Fresno. Students of the FC Drone Labs get hands on work with Fullerton Police Department, and Long Beach Aquarium to test the quality of the water or migration of the animals. To be a drone pilot, all you need is an FAA certification and an OSHA card. At FC, you get training on a dozen different drones and upon completing the courses, you receive certification and OSHA card. Starting average pay for California in drone work is close to $70,000, the equivalent of what somebody makes when graduating from business school on opening salary. "It's not a bad salary for a year of schooling. It's 11 credits and people can move through that quickly and start a high paying job." For those interested, going through a community college is the best option, you do not have to own you own drone, which can be pretty expensive, or go through a private school with can cost upwards of $5000 dollars. At Fullerton College, students who qualified for need get financial aid to cover the cost of the courses. The fees, which amount to $500, are covered with the use of scholarships, only if the student goes through the apprenticeship program. In addition to a scholarship, the apprenticeship program offers micro-loans for the purchase of a drone, which gets paid back through their paycheck. By the time a student has finished the 600 hours of apprenticeship, they have paid off their drone without any cost to them. Then, FC uses the money that was used to pay back the micro loan to fund the next student's micro loan. FC drone apprenticeship program partners with Hope Builders, a non-profit social enterprise temporary employment agency from Santa Ana, which covers all of their fees and in return the money is funneled back to the Drone Apprenticeship Program at Fullerton College. By the end of the 3rd year, it will become a self-sustaining program that doesn't require any money to be raised. "Thanks to the Orange County Community Foundation, The Samueli Foundation, The Southern California Edison Foundation. This Program is fully funded. I'm not here to ask you for any money for this program." At FC Drone Apprenticeship Program, you can do all this without paying a dime, but you do have to sign a contract to be an apprentice. You have to put in the sweat equity involved. If you are from a family without any financial need, you pay whatever your cost are for your tax bracket. Drone Apprenticeship Program at FC is now Federally and California certified and has established partnerships. It has 35 students who have been vetted to start the program which begins in March. Only issue the program has encountered has been finding enough employers for all the pilots that are graduating. "It's a pretty amazing program that we've designed it with all of these nuances where through a lot of strategic partnerships were nobody is really having to pay too much of anything for anything. And everybody gets what they want in the end." Drone Piloting is the fastest growing industry in America. Zoot provided the club with an image with statistics that break down the program and everything he just went over. The Drone Program at FC is only the beginning of a larger program. Horticulture students are nearing an apprenticeship program similarly like the drone pilot program, which will launch as soon as the Drone Program launches. The future will bring many more opportunities to Fullerton College. "This Drone Program is fascinating to me because we've been able to set up this self-sustaining program in a new technology and it will be the first of its kind in the country." Zoot took questions from the members and then thanked everyone for their time. "I just want you all to be proud of what is happening in your backyard. And we are the first in the Country to be doing it. Thank You!" President Lins thanked Zoot and awarded him with the highly coveted speakers gift. "Job well done Zoot. You are involved in a lot of stuff. The droning is important for the Police Departments. It makes it safer for them." Zoot offered to give his gift to Jay Siedel, not present, for helping him set up the presentation.

Last thing on the agenda was the 50/50 opportunity drawing for $26 and 2 certificates for a Muckenthaler Event, compliments of Farrell Hirsch. Lucky ticket holder 6369753, Bill Edman wins the money and, on his birthday, no less. Ticket number 6369746, Bud Lang wins a certificate to The Muck. Ticket number 6369739 wins the second event to The Muck. "Next week's program is a report on the plan of action for the Uncorked Event. Thanks for coming today and we will see you next week. Charge On! Meeting adjourned."