Meeting was called to order by club President Joe Lins. He greeted everyone and thanked everyone for attending. "So, I discovered something the other day about rhinoceros. A rhino is just a chubby armored unicorn.
Today's important facts. At the time of the meeting, the Lakers had a chance to make it to round three. "All they got to do is win tonight. Who would have thought?"

President Lins then told a well detailed funny joke, "The IRS decides to audit grandpa and summons him to the IRS office. The IRS auditor was not surprised when grandpa showed up with his attorney. The auditor said, 'Well, sir, you have such an extravagant lifestyle and no full-time employment. Would you explain that by saying that you win money gambling? I am not sure that the IRS finds that believable.' Grandpa says, 'Well, I am a great gambler, and I can prove it. How about a demonstration?' The auditor thinks for a moment and says, ok, go ahead.' Grandpa says, 'I'll bet you $1000 that I can bite my own eye.' The editor thinks for a moment and says, 'it's a bet.' Grandpa removes his glass eye and bites it. The auditor's jaw drops. Grandpa says now, 'I'll bet you $2000 that I can bite my other eye.' The auditor can tell that grandpa is not blind, so he takes the bet. The grandpa removes his dentures and bites his eye. The stunned auditor now realizes that he's wagered and lost $3000 with grandpa's attorney as a witness. The auditor gets a little nervous. 'So you want to double or nothing?' asked the grandpa. 'I'll bet you $6,000 that I can stand on one side of your desk and pee into the waste basket on the other side and never get a drop in between.' The auditor twice burned is cautious now, but he looks carefully and decides there's no way that this old guy could possibly manage to do that. The auditor agrees to the bet again. Grandpa stands behind the desk and unzips his pants. Although he strains mightily, he can't make the stream reach the waste basket on the other side, so he pretty much 'goes' all over the auditor's desk. The auditor leaps with joy realizing that he has just turned a major loss into a huge win. But grandpa's attorney moans and puts his head in his hands and says, 'oh my god.' To which the auditor says, 'are you ok?' He says, 'not really. This morning when grandpa told me he'd been summoned for an audit, he bet me $25,000 that he could come in here and pee all over your desk and you'd be happy about it.'" This joke received a great ovation!
Proposed New Members:
Randall Tierney, Parenting OC Magazine,Proposed by Matt Reekstin
Jeanie Stockwell, Stockwell Printing Co (Ret.), Proposed by Dan Kiernan
Stevan Miyamoto, Oral Surgeon, Proposed by Bob Simon
Sally Williams, Commercial Property Manager, Proposed by Jim Williams
Another important fact of the day, Robert De Niro became a father again at the ripe old age of 79, making it 7 kids. On This Date, in 1869, a golden spike was driven into Promontory, Utah, marking the completion of the first transcontinental railroad in the United States. In 1924, J. Edgar Hoover, was named acting director of the Bureau of Investigation, which is later known as the Federal Bureau of Investigation. President Lins told Dr. Bob Simon that he did a great job last week as finemaster. President Lins told a quick dentist joke, "What is a dentist favorite town?" The answer is Floss Vegas.
For our Commencement Ceremonies, Monica Fernandez led us in Mother's Day prayer. "We thank the woman, the woman who come before us and who gave their hearts without a rush. Their wisdom and eternal gift. Their love, a legacy that will always live. So, here's to mothers, past and present, whose love and care is truly heaven sent. We thank you Lord for every mother and we honor them now and forever. Amen."
Frank Kawase led us in our Patriotic Moment. He told us a story about what him and his family had to go through as Japanese Americans during World War 2, "Some of the questions they asked, 'Are you willing to serve to the U.S. Military? Will you serve allegiance to the United States and renounce your allegiance to Japan?" He led us in our countries Pledge of Allegiance.
Bud Lang, our Songmaster led us in the Rotary traditional song, "Smile."
Today's announcements, Fullerton Rotary Club received some press-time in the Fullerton Observer. "The Observer mentions LoveFullerton and it talks about our project at Tara's Chance. So please, grab a paper on your way in, grab it on your way out." Bill Edman announced his wife's photography exhibition at the Fullerton Museum, "Looking Back, Moving Forward. The Wisdom of Older Women." It will be on display from May 13th to August 6th. Marty Burbank announced the Fullerton Observer's mention of Coffee, Donuts, and Camaraderie on page 3. "So, there are 4 Rotarians along with a bunch of other veterans in the park. We meet every Monday at 9:30 by the Korean War Veterans Memorial. Veterans only. Please join us." Tez announced that her pastor friend is going to Cuba and they are in need of supplies. Please get a hold of her at 714-612-1212 if you would like to donate or help out. Scott Dowds announced the Junior High Recognition Awards, which take place on Friday, June 2nd. "I am hoping that I can get a couple more volunteers to be at the Junior High graduations to present the awards. If you have any interest in this, you would like to be a presenter on behalf of Rotary at the graduation and be onstage with everyon else." Scott says these awards are a big deal, some of the most prominent awards they get the entire year. He wants anyone interested to please call him or shoot him a text.
Jim Williams announced Dr. Sara Safari, who will be guest speaker during next weeks meeting. Please make sure to be here next week for her presentation. You do not want to miss it.
President Lins gave a little recap on the District Conference. He thanked Dan and Susan Ouweleen for it being well organized and well attended. He thanked Cathy Gach and Monica Fernandez for helping with the tent and giving away T-shirts. He thanked everyone who attended; Bob and Daisy Sattler, Ken and Susan Kaisch, Terri Grassi and Johny Hong. Jim and Karen Ripley. During the conference, those past members who have passed away were honored. "The conference went really well. I was honored and proud to have picked up some awards. The big mistake is that they put my name on it instead of the Club's." The club won some awards like, Fundraiser of the Year award. Also, the club was recognized for its 100th anniversary. The club won the literacy award for supporting education, "which we do a really fine job in this club of supporting education. I am really proud of this club and what we accomplish.
Today's Finemaster/Recognition Master was past president Allyn Lean. "Who is the greatest Rotary Club in this district? Joe is a tough act to follow." Allyn asked for any member wearing Rotary pins to stand up and be recognized. "Anyone with a Rotary pin will be exempt from any fines during the table quiz'." He then asked for newest members to stand up and be recognized, "that'll be $4 a piece." He asked President Joe Lins to stand and be recognized. "Where you at a breakfast last Friday morning about 6 am?" President Lins answered yes. "And I did an outstanding Job!" Allyn considered that a good answer so he did not fine him for it. "Joe put on a prayer breakfast for an illustrious community that recognized the ecumenical nature of our community. And for that, I think as a Rotarian, he should get a big round of applause." Mike Cochran was asked to stand and be recognized for his and Gale's wedding anniversary. "How are you going to celebrate this anniversary?" He was fined $5 after negotiating down from $47. Mr. John Phelps was asked to stand and be recognized for his and Kerry's anniversary. Mr. Phelps was fined $5 for it. He then played a round of questions with each table. He asked for each table to have a spokesperson to answer for them. If the table got the question incorrect, each member, excluding those wearing pins, would pony up $1. It was a fun time and Alyn Lean did a great job as finemaster.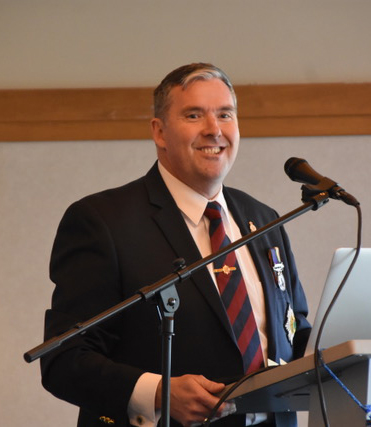 Gregson - King's Guardsman
Today's program at hand was introduced by President Lins, "the man who needs no introduction whatsoever to this group. However, he is a Rotarian. He's a great leaded. He's a great husband. He's a wonderful dad. I've watched him in action with his daughter and he's also my friend, Sir, Andrew Gregson." Andrew's presentation entitled, "ON GUARD" was about his time served as a British Army soldier. "The term, 'On Guard,' is a term commonly used by a soldier who is either on Barrack Guard, meaning that they're securing a facility or on camp duty or public duty, which today is maybe the king's guard." Andrew enlisted in the British Army at 16 and became a member of the Household Division which serves as the royal household military branch. In modern day, it means that you are the King's own personal bodyguard to protecting the reigning monarch. Andrew explained the uniforms and the history of the seven regiments, "there's lifeguards, Blues and Royals, the Grenadier guards, Core Guards, Scots Guard, Irish Guards, and the Welsh Guards." As a member of the Household Division, you start off in your brigade, ready for combat and inventory training which can often get you deployed in very many different operations across the world. "We do a really bad job standing for the fire department or EMT's when they go on strike, which they do that a lot," joked Andrew. Another duty of the Household Division is that they are mechanical and ceremonial duties. Ceremonial duties are held everyday at Buckingham Palace, Windsor Castle and other certain homes. As military guards, you receive two pairs of drill boots, a buff belt and a set of brasses which become your responsibility throughout your military career. In the British Army, the minimum time served is 3 years and up to 25 to 30 years maximum. When he enlisted at 16, he was a junior guardsman. He went through 40 weeks of training with 2 off in between. "When I first joined, there were 72 junior guardsmen and only 34 passed. Purely because it's very tough to join the guards. When I joined the regiment, there were 2 regiments, there was the 1st and 2nd battalion. Although, because of cutback, the 2nd battalion had to amalgamate with first battalion back in 1993." He remembers the "F" company that was formed to keep the regiment alive, which was based out of Wellington barracks. In 1989, Andrew's battalion was stationed for six months in Northern Ireland. His battalion was made up of 5 different companies, the B and C company. Andrew was part of the C company because according to him, he was still short in height at the time. During that time, his company was in a place called County Fermanagh, which at the time it was known as Bandit County. "It's known as Bandit Country because you border with the South of Ireland, and you had a lot of bandits, terrorist or war heroes. Whatever you want to call them coming over and causing chaos and mayhem." He was on rural deployment meaning that for days at a time, him and his company were out walking around the countryside, sleeping out in the woods and enjoying Northern Ireland at its greenest, wettest, and coldest moments. He tells of the time when in Bandit Country, they were under attack, and they were forced to return fire. "We were walking into a field, and we got about mid-way when suddenly we got under attack. We immediately returned fire at that time, our section joined us, and we kept pepper pooing all the way until we got to the position. It felt like 4 hours but maybe it was like 3 minutes." His biggest takeaway was that he lost his ID card. "We found my ID card, but that doesn't matter with the army, you'd already done something wrong." Andrew was fined 46% of his wages for that month and issued a new ID card. "Just before this picture was taken, I was actually down in Bavaria in the South of Germany dancing away on the night floor thinking I was Fred Astaire or John Travolta," remembers Andrew because his bust shot of his new ID reminded him of that time. Right after, in less than 20 hours, he was over in Saudi Arabia. "Now it wasn't all that bad over there in the Gulf." He met Storman Norman. During that time, the Prime Miniter of the United Kingdom, Margaret Thatcher would be replaced by John Major. However, the outcome of the war would be the same. Andrew credits, Majors for the new desert combat battle dress uniforms instead of the same green BDU's. In Saudi Arabia, he was assigned to guard the Padre, priest. "One of the most exciting things was that it meant that I was legally allowed to walk into a Land Rover dealership and commandeer a Range Rover." After a couple of weeks of driving him around, and in spite of being members of the same church, the Church of England, they had difference of opinion when under attack, "His God was telling me that we were going to be ok and the power of prayer would save us against our enemies. My God was telling me that I had to keep my MP5 next to me and my Browning 9mm because that was going to keep me more safe." His service was no longer required after that incident and he was sent back to BCR, battle casualty replacement unit. There, he volunteered for a special operation which meant he would get an extra $13 on his check. He volunteered to drive a truck, but not knowing exactly what he was getting himself into. According to him, this special operation was to drive around and pick up the war dead, as they were scattered everywhere. "All we did was go around, pick them up and then take them back to American bases where they were put in refrigerator and flown back home to Northern Ireland." For this operation, he was trained in close protection, defensive and evasive driving, "so, you're driving around looking like a civilian out there ready to get attacked or whatever without any armor." Andrew Gregson is proud of his time served in the oldest military in the world, 700 years of uninterrupted history. "I really appreciate you all spending the time with me today. Thank you very much." President Lins awarded Andrew with the highly coveted speakers' gift, "terrific job, Andrew. I want to give you the highly coveted armored unicorn
Last thing on the agenda was the 50/50 drawing worth $22. Lucky ticket holder 6370200 wins the money. Congratulations Minard Duncan. "Hey past president Joe Arnold, good to have you back in the house. Nice to see you sir. Join us next week, we have another amazing program, powerful presentation. A story of survival and growth, the author, outdoors woman and subject of the Netflix documentary, "Aftershock," Dr. Sara Safari will be sharing her story of surviving the Nepal earthquake and how that impacted her and her journey. So, with that, have a great week. If you need anything, don't hesitate to ask. Charge ON! Meeting adjourned!"