Meeting was called to order by club President Joe Lins. He greeted and thanked everyone for attending. "Did y'all hear about the guy who was killed by a pig? Yeah, he was boar'd to death." This received mixed reviews from the audience who applauded.

Category of things to do this weekend include San Pedro Cabrillo Marine Aquarium will host a two day educational program this weekend to teach people about some of the most threatened and endangered species, taking place on Friday and Saturday. "It's going to kick off with an opening of a new exhibit focused on white abalone, which is one of the most endangered species on earth."

In sports, the Denver Broncos signed wide receiver Marvin Mims Jr. also known as M Squared, "not to be outdone, the Minnesota Vikings signed outside linebacker Sam Schweer, also known as S Squared." In Lakers' news, the Lakers are down one, as of Wednesday, to the Denver Nuggets. In the sport of boxing, Hall of Famer Sugar Ray Leonard turns 67 years old on Wednesday. Lastly, sportscaster Jim Nantz turned 64 on Wednesday.

For our Commencement Ceremonies, Carol Morris gave us our Invocation. She led us in prayer, "We give thanks to God by whatever name each of us may think of him. For the companionship of our colleagues and for the strength we draw for this meal. For the service of our brothers and sisters around the world. Let us pray for the sick, the lonely, and the hungry. Let us make someone's day happier by doing an unexpected kindness. May we always willingly share our blessings with those in need. Amen."
Judy Atwell led us in our Patriotic Moment. She led us in our Pledge of Allegiance.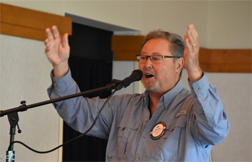 Bud Leads us in Song
Our Songmaster, Bud Lang, led us with "My Country 'tis of Thee." Great job Bud!
Today's guest, Kerry Phelps, wife of John Phelps. "Kerry, John behaves a whole lot better when you're in the room. Otherwise, he sits over the corner with a blanket." Martin and Wanda McColgan, guest of John Phelps. Jerry and Mary Reinhart, guest of John Phelps. Daisy Sattler, wife and guest of Bob Sattler. "Your husband is just a consummate gentleman. What really bugs me about Bob is he can dance, and I got no rhythm at all." Linda Ackerman, wife and guest of Dick Ackerman. "Thank you for bringing your wife. It's good to have you here, Linda." Debbie Hutchison, wife and guest of Jeff Hutchison. "Thanks for being here Debbie." Ann Sanford, wife and guest of Thad Sanford. "Good to see you again, Ann." Deejay Paz and Janelle Brian, guest of Dr. Bob Simon. "Welcome aboard, DJ and Janelle." Robyn Mathy, wife and guest of Bill Mathy. "Thank you for being here today, Robyn." Jane Shellhouse, guest of Howard Minkley. Joanne Brannock and Frankie were in the house as well, "good to have you both as well." There were no announcements today.

Today's program at hand was early due to speaker having to catch a flight. Jim Williams introduced our special guest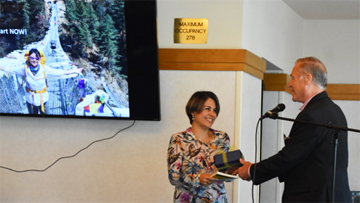 Dr. Sara Safari receives the Speaker's Gift
speaker, "I'd like to give a special thank you to our program committee group. In this case, John Phelps, who is the individual who got this outstanding program today." A video introduction was used to introduce Dr. Sara Safari, an author, speaker, mountain climber, college professor, an electrical engineer, and advocate for women empowerment. She is the founder and President of the nonprofit named Climb Your Everest, which focuses on empowering marginalized young women through educational programs. She successfully climbed Mt. Everest, and is featured in the Netflix documentary, "Aftershock," which highlights her journey. Dr. Safari took the stage and thanked everyone for inviting her. "10 years ago, I was in a seminar. The leader of the seminar said come up with a project so big and huge. Something impossible. Something that you can't even think of doing in your wildest dreams!" She came up with some ideas, but none of them were impossible, according to her. "I heard the word Everest and I thought, 'I've never hiked before. I've never slept in a sleeping bag. I don't have hiking shoes. I don't know anyone in my family or extended family who have ever went to the gym.'" She thought about it and said, "I wanna climb Everest!" She went home really excited and googled "how to climb." Her google search said that it would take 60 days to climb Everest. "I thought, who goes on a vacation for 60 days?" Dr. Safari googled again two weeks later, and took it a step further, "there was a phone number. I called them and I said, Hello. I want to climb Everest. What do I need?" She learned that she needed to have climbed some other mountains before she was able to climb Everest. "So, I was excited because he didn't say no. He said there is a way. It's a long list." Dr. Safari climbed Mt. Whitney in the middle of winter. It was a 12,000 ft climb. "First time ever being at that elevation. I couldn't even breathe, I was gasping for air." She remembers having issues during that climb, which was 10 years ago. "So, my sleeping bag is wet and I started crying because I thought, 'this is it. This is how people die on the mountain. I better record my last words.' Saying goodbye to my family to say how sorry I am, you know." She shared the video with the club. She spoke Farsi in that video. "I faced many fears. Fears of being alone, fear of darkness. Fear of extreme cold and the most important, fear of death. So being with those fears for 12 hours, kind of changed my perspective towards fears. How I allow my fears rule my life." This event changed her perspective of life. It did not deter her from climbing again, "I came down, I was even more excited because I thought, 'I survived this. I cannot believe that I survived it.'" She was so excited of surviving this event, that she climbed 5 more mountains but never made it to the top of any. She then took that as a sign to stop so she decided to post her hiking gear on eBay. "So, I am on eBay trying to sell everything when I got a new mail. I opened the email, it was for a new job I was so anxiously waiting for, which was teaching computer science and electrical engineering at CSUF." She said that her schedule was awful, with one class in the morning, a big gap, another class in the afternoon, another big gap, and one more class at night. This did not leave any time for training, which she also took as a sign to quit mountain climbing. This led to another of her passions, meeting the founder of Empower Nepali Girls, who informed Dr. Safari how the girls of Nepal become victims of human trafficking or are forced into marriage at a very young age. "He said 20 years ago, he went to Nepal to do a research. And he realized there is this belief that men who are HIV positive think that if they sleep with a virgin girl, their HIV is treated. That they get well." According to Dr. Safari, these girls are purchased real cheap, $50, they get raped, they get diseases, and even if some survive and somehow make it back to their villages, they will never have a normal life. She knew she had to help, she decided to continue training to climb Everest, and made a promise to raise $1 per foot for any mountain climbed for the non-profit organization, Empower Nepali Girls. "So, Everest is 29,000 feet. That's $29,000 for which pays 450 girls to go to school for one whole year. I can live with that." This motivated Dr. Safari even further, "I started training like crazy. I would go to the gym, and at that time, I was teaching at two different schools. I was at the gym 24/7." She trained for two years from the day she decided to climb Everest to the day of the climb. In between climbing Everest, she climbed the sixth highest mountain in the world, Cho Oyu, which borders Nepal and China. It took her 45 days to climb, "Imagine, 45 days of dehydrated food, 45 days of sleeping on ice and snow, negative 40 degrees, no restroom, no shower. Being alone most of the time in the tent, it was six of us but most of the time I am by myself." Knowing that she just did 45 days of climbing meant that she could most definitely do 60 days. At the same time, she would show the girls from Empower Nepali Girls pictures of herself at the top of the mountain to inspire them to do great things. After some time, she got the greenlight, meaning she was qualified to climb Everest. "This was in 2015, for those of you who watched the Netflix documentary. So you're very familiar with this 'before' flight to Kathmandu. Then we fly for 30 mins to Lukla Airport, and then from there it's 7 days of walking to Everest Base Camp." During that walk, there are villages that have girls who are part of the non-profit organization. "It's not just hiking for me. It's kind of visiting family and friends. Sort of a trip." It took another 50 days of going up and down from one camp to another. "We go to camp one, then case camp. Then camp two, then base camp. Camp three, then base camp, and then all the way up to the summit. That's why it takes 50 days, because every time we come back down to the base camp, we lost so much weight. We were very tired and exhausted. That's why we need to rest for a few days in the base camp to have enough energy and gain some weight to be able to continue going up because after camp one, the body is sort of dying, because of the lack of oxygen and the pressure on the body." She remembers forcing herself to eat and drink fluids to keep herself alive. The lack of oxygen makes you lose your appetite completely. She says that the scariest part of the climb was at the beginning, where the crevasses are, "you can't even see the bottom. There are 50 ladders, horizontal, vertical, 45 degrees, that you have to climb and cross. Doing this without a 7.8 earthquake is enough to be scary." The ladders are pieces of ices that are randomly collapsing because of the sun, so they are melting, according to her. "It's just ice. You look at these pieces of ice hanging 45 degrees. At any moment they can just break and fall on you." Aftershock documentary shows the depth of these crevasses. Nepali locals say that if you fall into one, you fall into the United States. On April 25, 2015, is when the earthquake hit Everest, "I was right there! I was climbing a wall where 5 ladders are connected to each other. It's 20,000 feet, I was on top of the fifth ladder, and I was, 'I got this, I know this is good.' I don't have a headache. I am not nauseous. I am ok." She remembers the ladders shaking uncontrollably and thinks to herself, "Why now? Did I ever receive any training on how to deal with an earthquake at 20,000 feet on a wall inside an avalanche?" At this point, she says there was a lot of snow and debris falling down, so she had to adapt on the fly. "Somebody yelled and that's when I realized I had to cover my nose and mouth. I had a little gap around my face for oxygen." Her heart rate is at 200 and she can't see anything. Snow is piling up on her, "I thought, 'this is it.' The avalanche is coming, I am inside an avalanche." She thought she was going to fall into the crevasse, "there is no way to survive this, but I was still trying to. I have to survive this." She started wrapping the rope around her arms to avoid falling into the craves that was around 300 feet beneath her. "There was this moment that I thought, 'there is no way for me to survive this. I am going to fall down. I am going to be buried alive under this.'" She saw her whole life flash in front of her, "I grew up in Iran. I went to school there, then we moved to the U.S." In her vision of death, she saw her parents wearing black for the rest of their lives. She started coming to realization that death was going to take her, "at least I am going to die for a good cause." Once the avalanche passed them, the only way was up, "we had to continue going up because all the 50 ladders were all broken and some were unstable. We had to go up." 8 days later, a helicopter arrived, "a helicopter came to rescue us and then took us down to the basin. It was unbelievable. There were dead bodies everywhere. People had blood on their jackets. They looked like zombies." It was a surreal moment for everyone. "It was so devastating. On the radio we kept hearing thousands of people died, and the number kept going up. There were passports, jackets, mountain gear, all over the mountain. People were grieving and crying." She remembers seeing bodies all over the mountain, "I feel like for the rest of my life, I'll be seeing this in my mind and processing it." After a total of 4 helicopter rides, they arrived at Kathmandu, "I was extremely angry because I was supposed to raise money for the girls to continue their education, but, they didn't even have a home. They didn't even have a school. They lost all of their belongings." She helped with the search and rescue effort well into 10 days after the earthquake. "I found two of the girls. They showed me their homes and told me how they lost everything." These two girls had been sleeping on a piece of dirt with no blanket for the last 10 days. Dr. Safari helped find food for them, but all the stores were closed. She found chips and chocolate, "that was the food that I could find for them." Dr. Safari couldn't sleep for months, so she started writing about it. "I wrote and wrote and wrote and published a couple of books." This was her way of sharing all of her stories from her childhood growing up in Iran, her stories of Nepal and the girls, the stories of all the mountains she's climbed and the earthquake. She said it took her about 6 months to feel ready again. This moment did not deter her from climbing again, "I am going to climb 6 other mountains, the highest peaks on seven continents. I climbed the highest peak in Kilimanjaro, the highest peak in Africa, for Tanzanian women recovering from fistula. I climbed the highest peak in Antarctica for Iranian and Afghan women who are victims of abuse and violence." She had the privilege of going to Iran and meeting some of these women. Last year, she decided to climb Everest again, making it the 7th summit she had conquered. She revisited the wall where she was during the earthquake. She calls it the wall of trauma, "we all have traumas, like things that happen in our lives that keep stopping us from taking it to the next step." Dr. Safari started a non-profit called, Climb Your Interest, which provides educational programs for marginalized women in Nepal, India, and Afghanistan. Her nonprofit is 2 years old, "I think, since the gift of the earthquake, I've dedicated my life to women's empowerment. I work with many non-profits, and this is my baby. I am so proud of all these girls." She finished her presentation with thanking the Fullerton Rotary Club board for inviting her, and she personally thanked John Phelps. "What I've learned from this journey has been meeting these women all over the world and learning from them. It's not about me, it's about learning, making mistakes and keep getting up when we fall. Continue climbing and teaching others that we can do so much with a little bit of courage, commitment, and determination." President Joe Lins took the stage and awarded her with the highly coveted speakers gift.

"So, we've got a little bit of unfinished business. We went out of order, and now, we have our Finemaster Rebecka Forrester." Rebecka took the stage and greeted everyone. She immediately went to work recognizing President Lins for his 37th wedding anniversary. "Congratulations for you Joe. That's $5." She played trivia with all the tables, and any wrong answer would be fined $2. She did an awesome job generating some revenue for the club. Lastly, she wanted to recognize Gerardo for graduating this week from college. Congratulations Gerardo!

Last thing on the agenda was the 50/50 Opportunity drawing worth $45. Lucky ticket holder 6370230 won the money. President Lins thanked Jim Williams, "your committee is just kicking butt, man. We want to thank John and Kerry Phelps for bringing Dr. Safari to our attention and Jim Williams for being to actually land it. That was very cool. Join us next week, we've got another great program. Another great craft talk with school superintendent Steve McLaughlin. I want to thank you all for coming today. Have a great week. Meeting adjourned. Charge On!"

Sara Safari Info:
Website for Books, etc: https://sarasafari.com/
email: Sara.Safari@yahoo.com
Look up AFTERSHOOK on Netflix