| | | |
| --- | --- | --- |
| | Rotagram - Meeting Notes and Club News | |
| | | |
| --- | --- | --- |
| Volume 82 Issue 41 | Wed May 24, 2023 | Rota-Scribe: Gerardo Chagolla |
Steve McLaughlin "Change the World by Inspiring Others."
Meeting was called to order by club President Joe Lins. "How's everybody doing? Good to see you all." He took the time to welcome back a couple members, "good afternoon, Laura Rubio. Good to see you." Laura has been a member of our club since 2019, but has been absent for some time. Rubio is here to support her boss, Steve McLaughlin. David Gillanders, club member since 2018, was in the house. He was given a shoutout by President Lins, "It's good to have you in the house as well. How the heck have you been, man?"
Past President, Mr. Chuck Munson, club member since 1978, was in the house as well and was asked to come up. "For those who don't know, this is Chuck Munson, and he's got a dog. And he walks the dog in the morning." President Lins awarded Mr. Munson the Paul Harris Rotary Pin. Congratulations Mr. Munson!
Last week's meeting with Dr. Sara Safari left club members wanting more information, "How about that meeting last week with Sara Safari? That was pretty amazing." For those members who have requested information on how to contact Dr. Sara Safari, her email address is the best way, sara.safari@yahoo.com. Also, to obtain a copy of her book or for more information on Dr. Safari please visit her website, https://sarasafari.com. Her historic Everest climb is featured in the Netflix documentary, "Aftershock." President Lins thanked John Phelps and Jim Williams for putting last week's meeting together. "Dr. Sara Safari sent me an email and she apologized for having to run out so quickly, but apparently, she did make her flight out of L.A. at 3. She said next time she is in town, she'd be more than happy to stop by and answer any questions that we might have for her. But, she was quite impressed with us, as most people are."

President Lins took the time to tell a joke. "Did you hear about the man who ran home from work and pulled his wife into the bedroom, threw her on the bed, and pulled the blankets over her? She was shocked! This hasn't happened in over 20 years! 'Look honey, my new watch glows in the dark!'" This joke received some mixed reviews from those in attendance.

In sports, the Los Angeles Lakers were eliminated by the Denver Nuggets in four straight games. On Sunday at 9:30 am, the Indy 500 takes place at Indianapolis Motor Speedway in Speedway, Indiana. Betting favorite Alex Palou, who has won the Indy 500 twice in the last 21 years, is one of three expected to win, by experts. On This Day, Tommy Chong from Cheech and Chong, turns 85 years old today. Happy birthday Tommy Chong! Bob Dylan turns 82 today, "I remember when I was a kid growing up, my parents wouldn't let my brother and I listen to Bob Dylan because they thought that the lyrics were evil." Patty LaBelle turns 79 today. Priscilla Presley turns 78 today. "And, we just found out within the last five minutes that Tina Turner has passed away this morning."

One last joke before moving on, "what did the teacher tell the light bulb? You have a very bright, bright future."

For our Commencement Ceremonies, Joyce Capelle led us in prayer for our Invocation. "Our Heavenly Father, we thank you every day for our blessings. It's as simple as waking up in the morning. It's the blessings of our friends and our families. I thank you today for joining us here today in Rotary. Let's enjoy the fellowship and thank God for this opportunity. Amen." Sueling Chen gave us our Patriotic Moment. She dedicated this moment to America, the land of opportunity and the land of many faces and colors, "this is America, and we're proud to be here in America where everyone is free." She led us in the Pledge of Allegiance. Our Songmaster, Bud Lang, asked members to continue standing, "I know that we have an upcoming Holiday that we remember with our hearts. We wouldn't be free if we didn't have service men and women that have given everything they have so we could be here today." Bud led us in the National Anthem played by the United States Marine Corps band. Great job Bud! Today's announcements,

Dan Ouweleen announced President Lins' Demotion Night on June 21st and June 23rd will be followed by his District Demotion Night as well. "I just want to take a quick moment to thank all of you for your support of me this last year and our District Conference that we just had this past month. It was a good event and I really appreciate all the support for this club." The transition dinner, on the 23rd, will take place at the Elks Lodge in Santa Ana. He sent out newsletters through email but if you did not receive one, please let him know so he can send you one. Dan also announced this years RYLA camp was a huge success, "if you guys want to check out how much fun these kids had up at RYLA camp, the video is up on the district website."

President Elect Jim Ripley announced the matching district grants. "If you are a nonprofit and you have a specific project that you're trying to fund, you may have up to $5000. The catch is I have to have something submitted by June 15th, which doesn't give us much time." Anyone with questions about this grant can contact Jim Ripley or Cathy Gach with further questions.

President Lins announced the 85th Memorial Day Event this Monday at Loma Vista Memorial Park at 10 a.m. Today's Recognition Master/Finemaster is Scott Dowds. Scott started with a four-way test request and asked anyone who is celebrating a birthday, whether of their own or spouses', to please stand and be recognized. No one stood up. He asked for anyone with a wedding anniversary to please stand and be recognized. Cathy Gach announced that she will be celebrating her 35th wedding anniversary. "Because of your honesty and your forthrightness and stepping forward, you exemplify everything about the four-way test. I want to thank you, Cathy." Scott asked her to pick a table to fine $5, "just point a finger and it's done!" said Scott to Cathy. Next up, Sueuling Chen stood up and announced her 40th anniversary. She was given the same deal, but refused, "I do not wish to make enemies," she jokingly said. an OuDan Ouweleen was asked to stand and be recognized. "Can we have the Rotary Customary applause for Dan? Dan, are you retiring soon? Not soon enough, right." Scott asked Dan to share the numbers from attendees to the District Conference, "About 200, it was pretty good, man," said Ouweleen. Scott asked Jim Williams to confirm, "I was there, and I got to tell you, the speakers were all right." Scott decided against fining Ouweleen because of his service in being District Governor. Dowds called out Farrell Hirsch, "he had an anniversary this last Friday. That's a four-way test failure." In a really funny moment, Farrell explained that it was not his wedding anniversary, "I was fined for that in March. It's not a Rotary anniversary because that's in August, see how I know these things? But it was my six-year anniversary of working at the Muck. It never occurred to me that we would fine for that. I am willing to let you." Farrell paid his fine but did not go down quietly, "If you will let me pay an additional fine because this Friday is my daughter's 17th birthday." Scott allowed that but asked more questions, "You are out there in the community, making sure we know about happenings. Did you have a car show this weekend?" Farrell's fine was reduced from $5 to $2.50. Scott allowed humble brags at the end of his finemaster segment, Miko bragged about the birth of her grandson. Pat Hartnett bragged about his daughter's engagement to be married next year. Scott decided not to fine either of them for their awesome humble brags. President Lins bragged about his son and daughter-in-law being with child, "I am happy about that. Stephanie was relieved because she was really tired of having to hold these secrets back from mom and dad." Scott thanked President Lins and, "How many days do you have left? You're so close to having the best title in Rotary, right? Past President."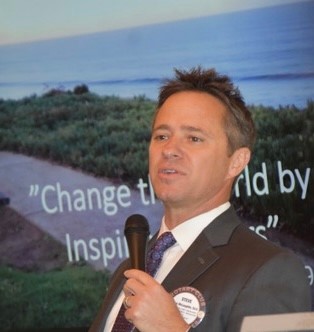 Steve McLaughlin
Inspires us All
Today's Program at Hand was introduced by President Joe Lins, "Now, for the moment we've all been waiting for. Time to find out what the Fullerton Joint Union High School Superintended does during the day. Please welcome, Steve McLaughlin. Please, come up and share your story." Steve McLaughlin took the stage and thanked everyone in attendance for the opportunity. "I am the proud, proud, superintendent of Fullerton Joint Union High School District. I am really excited to be here." What does a superintendent do in a day? "I'd love to tell you, but no day is the same, but I can give you a sense of who I am." Since 1991, Steve was a 15-year-old high schooler, wrote down "Change the World by Inspiring Others" in his binder. "So, I'm going to trademark this, because when I was 14, 15 years old in high school, there was a moment in time I am sitting there trying to figure out my future. What do I want to do when I grow up? I wrote this down on my binder and since then, it travels with me because I always wanted to make a difference." Steve says he wanted to influence a positive change in the world. At those ages, he was heavily active in leadership roles, which was and is what drives him, "it centers me no matter where I go, no matter who I am with. It is the idea that we can make effective positive change if we can inspire others." This idea was a running theme during his presentation. His upbringing contextualizes him as a person of leadership. His parents where young when they married, mom was 16 and dad was 20. His older brother was born when his mom was 17 and he was born at his mother's age of 19. His parents divorced soon after. Steve says no one from his family graduated high school nor gone to college. "So, education, that was a draw for me. I went to five different school districts by the time I was 12 years old, because life takes you where you need to go, and my mom took us where we needed to be." His mom now is a successful mortgage banker, National Vice President of a major bank without a high school education. Steve was born in Los Angeles where he spent the first 10 years of his life. After LA, his mom moved them to a place called Foster City, south of San Francisco, where they lived for a couple of years. Finally, they settled in what he calls his hometown, San Diego. "We landed in San Diego and from 12 to 18, I lived in Delmar. That's where I think finally, I found kind of a place to settle, and I thought my dream was that I was going to be there forever. No matter where I went, all the way through the state of California, I found a safe place to be." He enjoyed school, he said he was that annoying kid that was punished for telling jokes, "That was me and because I was having fun. It was having fun, it was a safe place for me to engage and I wasn't a highly academic kid." He held a 3.0 g.p.a., he never took honors classes, never took an A.P. class either. In school, he was able to think differently, behave differently, and was part of the GATE program (Gifted and Talented), "So, with gifted kids that are identified, they don't always connect directly with schools, which was perfect because I draw on these weird things. I don't think linear. I hate lines on a piece of paper because it's too distracting for me. It's just how my mind works." School gave Steve many opportunities, not just athletics, but leadership clubs too and community service. "That's what schools did for me, and I believe it does for everyone or should be for everyone else they go through." Steve graduated high school in 1994 from Tory Pines High School with only 2 options in mind, President of the United States, or teacher. In college, he decided to go into education, "it had everything to do with this quote because I wanted to come back and serve kids in a way that communities and schools serve me so well and I was able to benefit from." Steve graduated from University of San Diego in 1998 and went to receive his mater's degree from Cal State San Marcos in 2003, and then his doctorate from USC. Steve gave a quick shout out to soon to be doctorate Laura Rubio. So, Steve went back to Tory Pines High School to teach and coach, "I was the teacher who came with shorts on. I had 6th period off so I'd go surfing. I coach basketball at the high school." He remembers his old teachers questioning why he was there. There, he taught Government Economics, coach basketball, taught middle school history through a program called Avid, which is for first generation college students typically underrepresented, "so, it spoke to my heart. And then, I was also a site union representative. I did represent from the association side, which was really important in becoming a superintendent, understanding the people I get to work with." During this time, Steve and his wife, who was also a schoolteacher, were expecting their first child. His wife at the time wanted to be a school administrator so they moved up to Orange County, and that is when he decided to be a stay-at-home dad. "I quit this teaching stuff. I got to be a stay-at-home day with my first daughter for the first 6 months of her life." This moment was the best gift Steve has ever had in his life. He remembers his wife wanting to come back home so Steve got a job as a high school assistant principal, "I go up to Newport Mesa. So now I went all the way up to California, all the way down to San Diego. Now coming back up through Orange County because just this weird life thing where it takes you. Middle school principal, I was a director of secondary schools and I spent a lot of time on the district negotiation team from management side." What superintendents do is super important, according to Steve. "This was never my dream. But as I got into schools and realized the influence we can have in these positions. I wanted to be a bigger part of it." Right before he took the path to superintendent, he was assistant super to educational services in Fountain Valley from grades K through 8th district, which at the time, Steve had not done elementary, kindergarten, or preschool, "I went there and found the most amazing practitioners and instructors and I got to work with the littlest kids in our system." In his current position, Steve gets to work with his board of trustees, which are 5 wonderful people. "Our current board president is Dr. Joanne Foley, who has been on the board for 30 something years." So, what is Steve's number one priority? "It's to work with the elected officials, the governance team. I am the one and only employee of the district. The school board in the district hires and fires one person. Me." This means that the board of trustees has the power to terminate him and the position of superintendent. "This is a fantastic board, really outstanding as far as allowing us to lead, giving us great feedback and direction from the board level and then supporting the heck out of us, which is really important." At FJUHSD, there are about 13,000 students with about 1200 staff members. Seven high schools with one continuation school; Buena Park, Fullerton, Troy, Sunny Hills, Sonora, La Habra, La Sierra, La Vista High. "A lot of work as a superintendent is figuring out how to support this whole community together as they matriculate through high school. We spend a lot of time together as far a school. We have honors, advanced placement, international baccalaureate programs which are the top tier academic rigorous programs." FJUHSD also offers pathways like agriculture, medicine, culinary, health, welding, technology, athletics, music, theater, and a large JROTC program at many of their schools. Steve McLaughlin has his hands tied in every aspect of education at FJUHSD as the superintendent there, "We realized that we fail every single day, but it drives us to make sure 100% of our kids are successful every day. So that's my job as superintendent. We celebrate success." Steve shared some photos of him and his family traveling, which is one of his hobbies, alongside food. "I just love food. If I didn't do this, or wasn't POTUS, what else would I be doing? I'd be a chef. I'd go and open a breakfast, brunch, lunch restaurant and I'd be closed by 3 p.m." Superintendent Steve McLaughlin thanked everyone for the opportunity to share his life, his family, and his job with them. Club President Joe Lins awarded him with the highly coveted speakers gift, "as a student, I never got to sit in that special chair. Great Job Steve. And, you know, if was in high school, I'd love to have a superintendent. Thank you."

Last thing on the agenda was the 50/50 Opportunity Drawing worth $28, "we have some money." Lucky ticket holder 6370281 wins the money. Congratulations Pat Hartnett! "Join us next week for another great program featuring Kendra-Tankersley, Davis, who is the Vice President of External Affairs at Crittenton Fullerton Services. Thank you for coming today. Have a great week and Charge On! Meeting adjourned."
Sara Safari Info:
Website for Books, etc: https://sarasafari.com/
email: Sara.Safari@yahoo.com
Look up AFTERSHOOK on Netflix